The Unisex Sheep Inc. Sweater
US$240
Made using Japanese 3D knitting machines in Spain with yarn spun in Italy out of 100% New Zealand Merino wool. Hand-finished with unique detailing and an individually numbered tag.
Sheep included?
Every sweater comes with a sheep included. Once you've registered the sweater, we'll allocate you a real-life sheep from one of the farms your sweater's wool is from. We will keep you up to date on its major life events. It's our way of bringing you back in touch.
How carbon-negativity works
We invest 5% of our revenue into biodiversity projects. Projects that mitigate ten times over the carbon impact of your sweater. Each project is carefully vetted by a panel of climate-change experts.
Unique tag & hand-finishing
An individually numbered tag traces the full sweater provenance. Yarn leftover from the sweater's manufacture is used to create unique detailing at the back of the collar.
About size & fit
Designed to be a relaxed fit. So you always feel comfortable. Whilst always looking good. See the size guide to check size.
Our no-discount promise
We're never going to tempt you into buying one of our sweaters by selling ourselves short. We're all about consuming less. Consuming better.
Shipping and Returns
Care Instructions
Sweater anatomy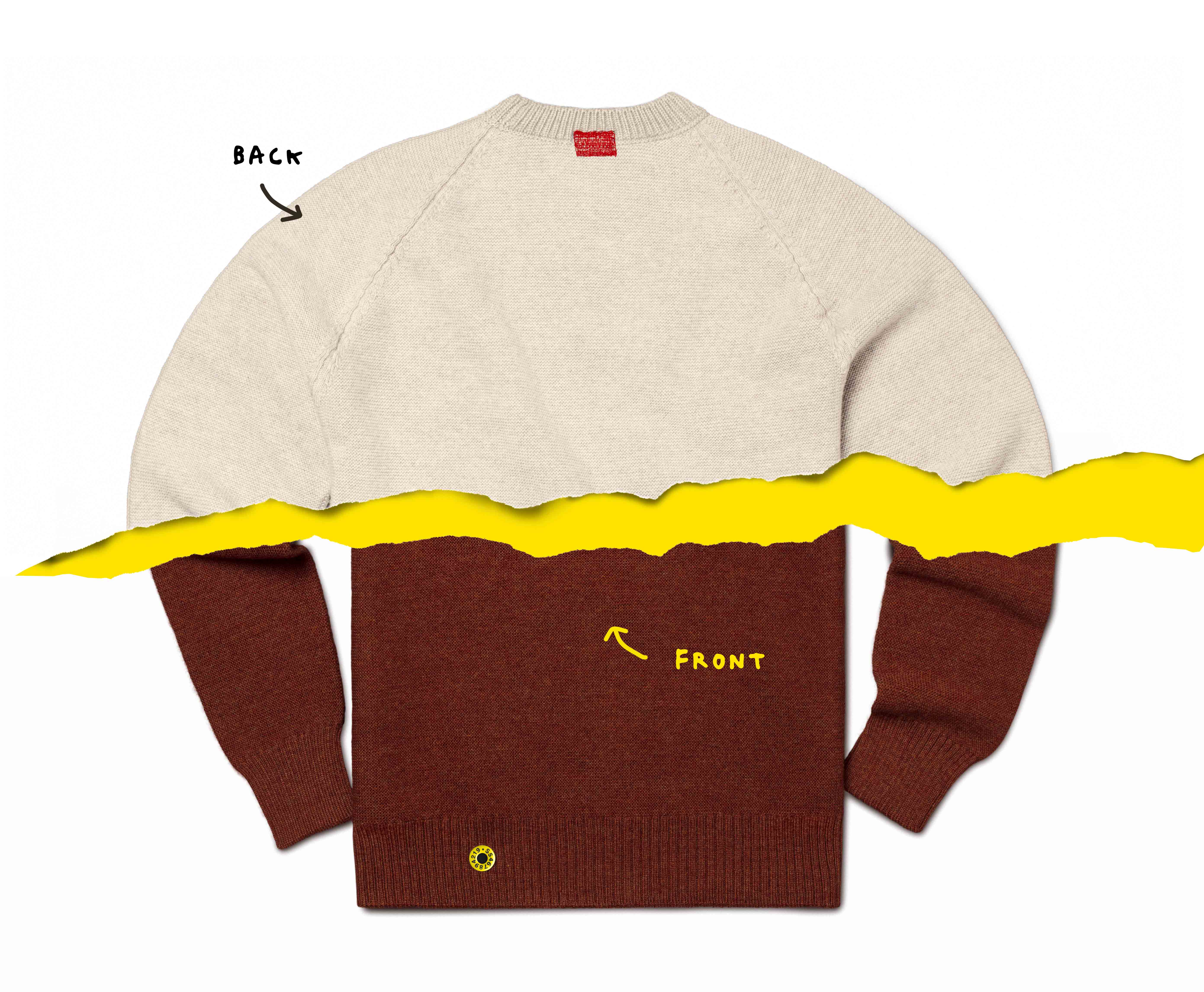 Hand-Finished Detailing
Each sweater is hand-finished with a coloured rectangle, stitch detailing in the base of the neck. Inspired by the smit marks farmers use to spray and identify their sheep. The smit-mark is hand-stitched into the neck using yarn that is left over from the manufacturing process. Every sweater is uniquely finished. Making every sweater a limited edition of one.
3D Links-Links Knit
Sweater has a links/links knit that makes it a perfect weight to wear all year round. Lofty and breathing when too hot. Warm when too cold. The sweater is knitted using seamless Japanese 3D knitting machines. No seams. No waste.
Raglan Sleeve detailing
A Raglan sleeve gives knitwear the ability to mould around your shoulders, like a warm hug, they fall over and around your shoulder closer to your natural shoulder line. They are more comfortable because of a deeper armhole, and they allow more movement for the wearer. Generally, you would find them in sports or activewear, but with luxurious knitwear they add a touch of ease and wear-ability.
Digital NFC Tag
A tag in the sweater hem gives you access to the full story behind your sweater. Made from castor beans, laser-engraved with a unique number. It has NFC technology and a QR code that means your sweater story is just a tap or a scan away.
Seamless cuffs and hem
Our cuffs and waistband are knit in a 2×2 stitch seamlessly from the arms and body of the sweater. No seams mean no rubbing against the body. They flow naturally from the overall stich into the cuffs and waistband effortlessly. They are matched at 8cm in depth so that they are visible and perform their job but also are sized for all.